The T2 connected to PS5 and laptop. Input B is connected to Logitech G29, and Input A is connected to the DualSense Controller. It works well while I am using the controller. If I leave the system alone for a period of time (minutes), everything gets unresponsive (i.e. push buttons but nothing happens) as if the controller is completely disconnected from the T2. When this happens, the DualSense and G29 are both unresponsive. To resolve, I usually unplug the G29 from Input B and reconnect. Everything starts working again. This does not happen if I am actively using the controller.

Is anyone else experiencing this? Is there a way to fix this?
Brigadier General

Posts: 2211
Joined: Thu Jan 08, 2015 6:53 pm
Location: San Diego, California USA
---
I can't get my T1 to work with my Hori Fighting Commander, anyone know where I can find a T2 for a reasonable price? Like $80 or so?
Master Sergeant

Posts: 40
Joined: Wed Jul 06, 2016 12:38 pm
---
I'm looking to use my Driving Force GT wheel with my PS5
I do have working but also have what seems like authentication issues after 10 minutes or so.

Firmware version 1.11.3.0
Have micro sd card installed/configured.
Have horo mini controller connected
The output protocol 'USB PlayStation 5' has buttons, brake and accelerator working ok , but no steering.
'USB Logitech Steering Wheel' does works (apart from gear stick) but it seems like i get authentication issues. Perhaps this output mode is not picking up that it needs authentication?
Private First Class

Posts: 3
Joined: Sun Mar 01, 2015 5:59 am
---
Guys my ps5 controller wont work if i connect titan2 to ps5 help please
Sergeant

Posts: 8
Joined: Thu May 06, 2021 2:15 pm
---
Artimage wrote:Guys my ps5 controller wont work if i connect titan2 to ps5 help please
Have you set your output protocol in Gtuner>Device Configuration to USB Playstation 5?
And enabled wired communication?
First-time Configuration

On the PlayStation 5, enable wired communication:
Settings → Accessories → Controllers → Communication Method: USB .
Configure the Output Protocol of the Titan Two to USB Automatic or USB PlayStation 5.

Major General

Posts: 3439
Joined: Wed May 22, 2019 5:39 am
---
Hi everyone,
Step-by-step on how to test the PlayStation 5 output protocol (PASS THROUGH ONLY):
- On PS5 goto Settings -> Accessories -> Controllers -> Communication Method: USB
- Configure the Titan Two output protocol to "USB PlayStation 5" (enabled for beta testers only)
- Plug the DualSense to any input port of the Titan Two and the output port to PS5 console
- Press the PS button on the DualSense

At this point you should be able to operate the console normally. All DualSense features will work as expected (haptic feedback, adaptive triggers, speaker, mic, headset, touchpad, motion sensors, etc).
I would like to play with the
Dualsense in passthrough
and my xbox elite controller at the same time with the T2 on PS5.
Works,
but I have no haptic feedback and no adaptive triggers
working on the Dualsense. Even when the Dualsense is the only controller connected to T2.
Yet I checked and proceeded with all the steps listed in the quote above...
- I have the latest public firmware 1.11.3.0
- PS5 Communication Method is USB
- And here my T2 settings: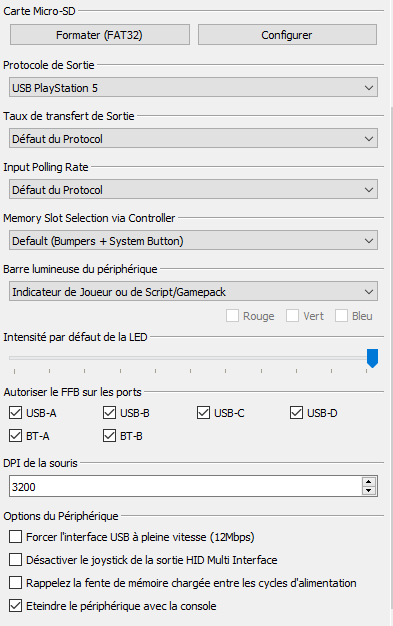 Sergeant Major

Posts: 71
Joined: Mon Jun 22, 2015 7:41 pm
---
---
Who is online
Users browsing this forum: No registered users and 2 guests